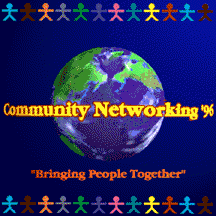 Dates: May 14, 15, 16, 17, 1996
Location: Taos Civic Plaza and Convention Center
121 Civic Plaza
Taos, NM 87571

---
Welcome to Community Networking '96 "Bring People Together" Online Conference Web Site. During the conference we were Netcasting the Conference Papers, Notes from the Sessions, News From the Street, and CU SeeMe broadcasts of the Main Sessions. All times are Mountain Standard Time. Sorry you couldn't be here to join us but this is the next best thing to having been there.
---




---
Conference Sponsors:
"Bringing People Together"
Is a living example of collaboration in action. We are
profoundly grateful for the support from our sponsors.
Apple Library of Tomorrow
California State University, Long Beach
Pacific Southwest Regional Technology In Education Consortium
We wish to give warm thanks to the following
participating organizations including:
Town of Taos
Decker Communication Systems
Connect New Mexico
Los Alamos National Laboratories (LANL)