DRAGONS, DRAGONS, DRAGONS
by
Reyna O. Gonzales

Introduction | Task | Process | Evaluation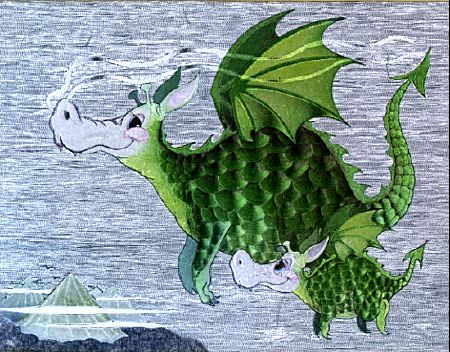 Introduction
What are Dragons? Where do they come from? Are they real or mythical? Some of these questions will be answered in this lesson.
Task
You will find out where Dragons originated and why they have become part of the Chinese, Korean and Japanese Cultures.
You will determine whether Dragons actually exist.
You will read stories about Dragons
You will explore other fun places in search of myths and legends.
You will work on activities relating to the subject of Dragons.

| | |
| --- | --- |
| | Visit website #1 to see pictures of many kinds of Dragons. Click on the back button to return to this page. |
| | |
| --- | --- |
| | Visit website #2 to read about Dragons--learn about why Dragons have been a part of Chinese, Korean and Japanese Cultures. After completing the reading, you will have some questions to answer on a worksheet. |
Visit website #3 to do a lesson on Animal Myths and Legends.

http://www.ozemail.com.au/~oban/

Go to ABOUT THIS SITE here you will get an overview of Myth and Legends.
Go to LEGENDS here you can read a variety of stories about Animal Myths. For this lesson I would like for you to read The Red Dragon. After reading , write a reaction report on how you felt about one of the characters.
Go to PLAYROOM here you can do a crossword puzzle or wordsearch. You may also work on activity pages or make a craft.
Go to TALK TO US here you will answer questions about yourself, write a letter to one of the characters in The Red Dragon and possibly win a prize.
Go to OTHER SITES here you can explore other fun places.

Go to WHAT'S NEW here you can visit other websites of interest.
Evaluation
By the end of this lesson, you will be able to write a factual or fictional story about Dragons. You will have completed some of the activities on Animal Myths and Legends and you will have explored websites relating to Dragons.

Introduction | Task | Process | Evaluation