Student page
The Life Cycle of the Butterfly
Designed by
Martha Steger
Special Thanks to
Dolores Romero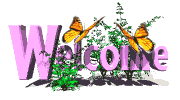 Introduction | Content Areas | Standards | Implementation | Entry Skills | Evaluation | Conclusions | Resources

Introduction
This lesson began as a project to celebrate Earth Day on April 22nd at our school, Ranchos Elementary, in Ranchos de Taos, New Mexico. Several teachers in the first, second and third grades collaborated in purchasing the live caterpillars and then developed projects in their classrooms that focused on the life cycle of the butterfly. This is the lesson plan that I developed for my Special Education class.
This lesson is designed to be a Webquest about the life cycle of the butterfly: from caterpillar to chrysalis to the emerging butterfly. It is designed to take approximately 3 weeks with at least one activity a day to study the changes that take place during each stage of the life cycle. It is a hands-on lesson that begins with the arrival of the live caterpillars. This lesson also includes many activities such as building a butterfly house, keeping daily journals describing the changes that occur, completing art projects related to the life cycle, studying the anatomy of the butterfly, and ending with the release of the butterflies as the students' gift to the planet on Earth Day.
This is a Science lesson that also incorporates other areas such as reading, writing, and art. Its target population is primarily grades 2-3, but the innovative teacher could easily expand the activities to include kindergarten and grades 1, 4 and 5, as well.
This lesson meets the following New Mexico Content Standards, Benchmarks and Performance Standards in Science, K-4.
Content Standard 1- Unifying Concepts and Processes: students will understand science concepts of order and organization.
Benchmark A.
Demonstrate knowledge and understanding that science is based on the assumption that the environment is understandable and predictable.
Performance Standard 1.
Develop an understanding of regularities, patterns, and systems, and that some events in nature have a repeating pattern.
Benchmark B.
Demonstrate an understanding of prediction and its uses.
Performance Standard 1.
Develop predictions based upon prior knowledge.
Content Standard 10- Life Science: students will know and understand the characteristics that are the bases for classifying organisms.
Benchmark B.
Describe life cycles of plants and animals.
Performance Standards
1. Design and conduct investigations to observe and record life cycles of organisms.
2. Represent the life cycle of a mammal, reptile, fish, insect and plant.
In addition to meeting state standards in science, this lesson will also encourage students to utilize critical thinking and observation skills when making predictions about the life cycle. The students will engage in creative problem solving and learn the value of teamwork, as they build their butterfly house. Communication skills in the areas of describing, comparing and contrasting and the sequencing of events will be strengthened as they observe the changes during each stage.
This is a multidisciplinary Science lesson that incorporates many other areas of learning such as reading, writing, listening and communication skills. It is designed to take place over a 3-week period. Each daily activity should take 45 min. to an hour to complete and the lesson may involve one class or any combination of classes.
Entry Level Skills and Knowledge
The students participating in this lesson will need to have some experience working with a computer and possess first grade-level reading and writing skills, at a minimum. Those students with special needs should be guided by an adult or peer tutor through activities that are too difficult for them to complete on their own. The teacher may wish to incorporate an introduction of some kind, before beginning the lesson, such as discussing life cycles of other animals or relate the butterfly lesson to the spring season.
Any teacher who is enthusiastic about science and environmental education can implement this lesson. The hands-on, multisensory activities make learning exciting and fun.
At the end of this lesson, the students will be able to recognize predictable events in nature and understand the sequence of the life cycle of the butterfly. Their knowledge of these areas will be observed in the writings and drawings in their daily journals and in their answers to the Web Quest questions within the activities.
This lesson on the life cycle of the butterfly is an excellent way to teach environmental awareness while at the same time, meet New Mexico State Standards in science. Another useful outcome of this lesson is the learning of beginning computer skills on the Internet, such as learning what a web site is, learning how to scroll, learning what a link is and how to point and click. However, the most important outcome of all is that learning about science is a lot of fun!

Introduction | Content Areas | Standards | Implementation | Entry Skills | Evaluation | Conclusions | Resources
I welcome any suggestions or comments about my website. You can contact me at mbsteger@laplaza.org.