Technology and Tradition
| Northeastern NM Economic Development contacts |


Poets, Painters and the Birth of the Atomic Age
Reproduced with the permission of: The New Mexico Business Journal
in association with the Economic Development Department, and the State Of New Mexico.
Where technology and tradition create a heady mixture.
It may be true that "In unity, there is strength," but in northeastern New Mexico, "In diversity, there is opportunity." And challenges, plenty of challenges. This region encompasses areas known worldwide for art, technology, Indian and Hispanic heritage, and natural beauty. Many in the region can look out the window each morning,greatful to have been born in or have moved to an incredibly beautiful place. Unless you can't live without sea gulls or Broadway shows, there is probibly something here for everyone.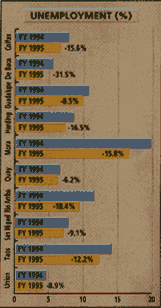 Northeastern New Mexico has a growing and expanding economic base. The diversity among the region's counties is an important feature. Each has a distinctive feature. Each has a distinctive population and economic focus.
Rio Arriba County generates local jobs in retail, services, government employment and agriculture but also sends people "up the hill" to Los Alamos, Rio Arriba recently embarked on an economic development planning process which gives it several "communities" a chance to outline their own econimic goals.
Parts of Rio Arriba County are included in the Empowerment Zone designated by the federal government, which offers considerable advantage to businesses located in that area. Rio Arriba is also the home to the Northern New Mexico Community College, which has benefited from a long term Ford Foundation Commitment to economic devenopment.
Las Vegas is prehaps one of the state's ten best kept secrets. Touting itself as, "Enchanting places, friendly faces and the rest of history," the city offers mucho life style, characters and roots. It offers a reasonable cost of living, hospitable community and breathtakinng natural environment. New business additions to the area include Fibrotek Industries builds clean-room garments; MDF Molding produces interior wood molding; Medite of New Mexico produces fiberboard used in cobinets and furniture, and Wood Corp. specializes in doors, windows and cabinets.
Tourism is still the name of the game in picturesque Taos County with its abundant natural beauty, skiing, outdoor activities and thriving art market. In the past, many benefitted from the county's artistic boom times. Efforts are under way, however, to create diverse jobs and opportunites not totally tied to tourism. The Taos County Economic Development Corporation (TCEDC) has recently sponsored, with other state and local organizations, an economic develipment plan, a business incubator and a business park. Taos County is working on developing micro-enterprises that will benefit that population but not be tied to tourism.
The pueblos of the region have there own micro-economies and their own trump card. Whatever the impact of gaminng in the region, it is also true that Pueblo leaders are already looking beyond it to other economic development investments on behalf of thier members.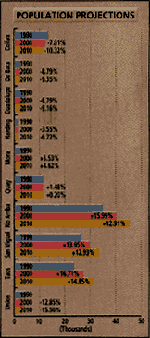 Land is an opportunity, and one which usually has a price in the north-eastern region. Española has just had its first tenant in its new industrial park and has plenty of room for more.
Entrepreneurial energy may be one of the most exciting opportunitiesup north. The diversity of small businesses in furniture making, food products, publishing, software development and alternative health care stimulates everything like an extra zap fo chile in the salsa.
Chambers of Commerce in Taos, Las Vegas, Raton and Española, the Luna Vocational Technical Institute's Small Business Development Center, The Espoñola Tourism, Commercial and Industrial Development Commission, and the Tri-Area Association for Economic Development show local and regional commitment to enterprise creation and growth.
Although regionally located in the center part of the state, Los Alamos National Laboratory and its economic status affects large portions of the northeast region. The Lab has just entered the first phase of what could turn out to be a $20 billion boon that will spill over to the northeast region. In this effort, the Lab will soon begin building a $300 million accelerator. The impact of this gargantuan funding is still unclear, but most economists belive it will reap economic benefits for many in the region.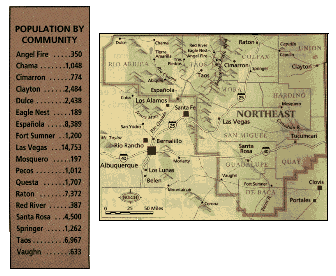 | Northeastern NM Economic Development contacts |