Jell-O Waldorf Salad
1 pkg. sugar-free lime flavored Jell-O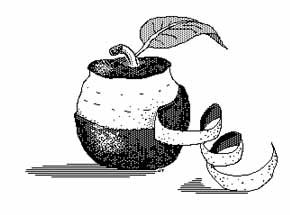 1/2 cup diced apple
1/2 cup diced celery
1/2 shredded carrot
Make sugar-free Jell-O.


Refrigerate for about 1 1/2 hours or until thickened.
Stir in vegetables and fruit.


Refrigerate for 4 hours or until firm.
Fruit Yogurt Shake
1 cup plain nonfat yogurt
1/4 teaspoon vanilla
1 packet Equal brand sweetener
3/4 cup frozen unsweetened fruit
Place yogurt, vanilla, and sweetener in blender. Whirl, gradually adding frozen fruit.
Serves 2
Makes 2 cups
Serving size = 1 cup


Bananas, peaches, blueberries, strawberries, or raspberries work best for this recipe.


Source: The Joy of Snacks by Nancy Cooper, R.D., CHRONIMED Publishing Minneapolis, MN, 1991.