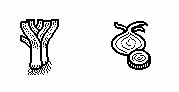 1. Cook onions, garlic or chopped vegetables in water or broth instead of oil, butter or margarine.

2. Make lower fat gravy by skimming the fat off the pan drippings, and boil the remaining drippings.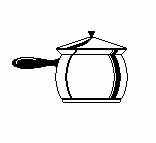 3. Try mustard, lemon juice, and herbs and spices, instead of butter, margarine or oil to spice up foods.

Hint: When cooking, try replacing the butter, margarine with less of the amount the recipe calls for. Try reducing the
fat gradually until you find the least amount of fat that will work.

Hint: Try substituting

| | |
| --- | --- |
| apple sauce for half or all of the fat in mufffings, cookies and other baked goods. | |

Hint: Use low fat or nonfat mayonnaise instead of regular mayonnaise.

Hint: Use egg whites instead of whole eggs. The egg yolks have lots of fat. When a recipe calls for two whole eggs, try this instead: mix three egg whites, and 1 teaspoon of vegetable oil together and use as usual. Double this mixture, cover it, and refrigerate up to two days.