Wrestling & Girls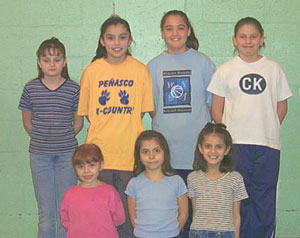 When the Peñasco wrestling team started the program I was the only girl on the team. Our coach (who by the way is my dad) RobertArchuleta started off with about six wrestlers, now the team has about 30 wrestlers boys and girls. The above photo is of some of the members. Top left-Erica Medina, Lauralee Archuleta, Estrella Lopez, and Kimberly MartinezBottom Left- Ashley Domingeuz, Ariana Archuleta, and Christy Medina.
When I started my mom said that I couldn't Wrestle, because I was a girl and I would get hurt. So the first tournament I went to was fun but not easy. I got a bloody nose and I wanted to quit. But my mom who did not want me to wrestle in the first place told me I couldn't quit and my dad supported her.So now I thank my parents for not letting me quit because I can protect myself against my enemies.
Click on the picture below to see more pictures of the team wrestling.