Valerie Rudolph
---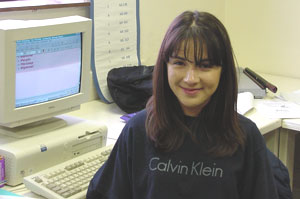 My name is Valerie Rudolph. I am an 8th grade student attending Peñasco Middle School. My hobbies are running, eating, sleeping, watching tv, hiking, and fishing. I run cross country. I have a little brother and a little sister. My favorite shows are TRL, Say What Karaoke, All That, and Smart Guy. My favorite movies are Liar Liar, Armageddon, Selena, A Night At The Roxbury, She's All That, and The Other Sister. My favorite sport to watch is basketball. My favorite team is the L.A. Lakers.
I am in the Open Studio Youth Project. I have learned a lot about computers since I have been in it. It has been an exciting learning experience. I would like to thank La Plaza Telecommunity.
I designed a website about remedios (healing herbs) that we use in my family. Please visit it at:
http://www.laplaza.org/open_studio/OSYouth/valerie.