Business Professionals of America
Peñasco Chapter
1996-1997
"Home of the Panthers"
Experience

<! row 2>
<! row 3>

the Magic
---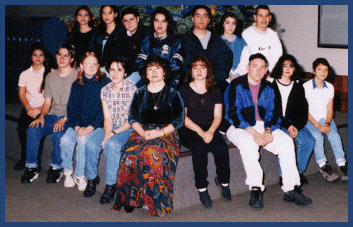 Top Row Left to Right: Valerie Trujillo, Angelica Lopez, Owen McDonald, Nieves Romero, Daniel Romero, Jenelle Sweeney, Nathan Fernandez. Bottom Row Left to Right: Danette Martinez, Michael Lopez, Colleen Miller, Danielle Montoya, Mrs. Garcia, Renee Garcia, Carlos Gonzales, Yvette Pacheco, and Rebecca Gonzales.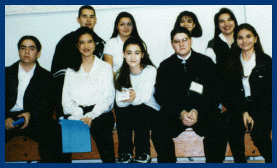 Top Row: Nathan Fernandez, Danette Martinez, Yvette Pacheco, Nieves Romero. Front Row: Daniel Romero, Angelica Lopez, Jenelle Sweeney, Owen McDonald and Valerie Trujillo.









Peñasco Business Professionals of America Home