Activities
September
Planned fund-raising activities; elected officers; planned leadership and citizenship activities for the year.

October
Sold candy; rehearsed for Torch Awards Ceremony; planned reception for guests at the Torch Ceremony.
Members invited parents, administrators, board members, and PTO members to their Torch Awards Ceremony which also featured the installation of officers and the induction of new members. A reception was held after the ceremony for all participants and guests.

November
Helped the Bilingual department with the Parent Institute by preparing promotional flyers, introduced guest speakers, and ushered people to workshops.

December
Members are sponsoring a Food Drive for the needy and selling personalized posters and mugs to raise money for State Conference.

January
Members trained hard for the Regional competitive events in February.

February
Competed against eleven other schools at the Region V Business Professionals of America Conference which was held at West Las Vegas High School. Any member who placed 1st through 4th will be competing at the State Conference.

March
Members who qualified at Regionals will compete at the State Conference which will be held at the Marriott Hotel in Albuquerque. Students who placed 1st through 3rd will be eligible for competition at the National Conference.

April
Students who qualified at State will attend the National Conference in Orlando. In addition to leadership workshops, and competitive events, students will also go to Disney World, Epcot Center, Universal Studios and Sea World.

May
Awards Banquet for members and parents.


Return to Top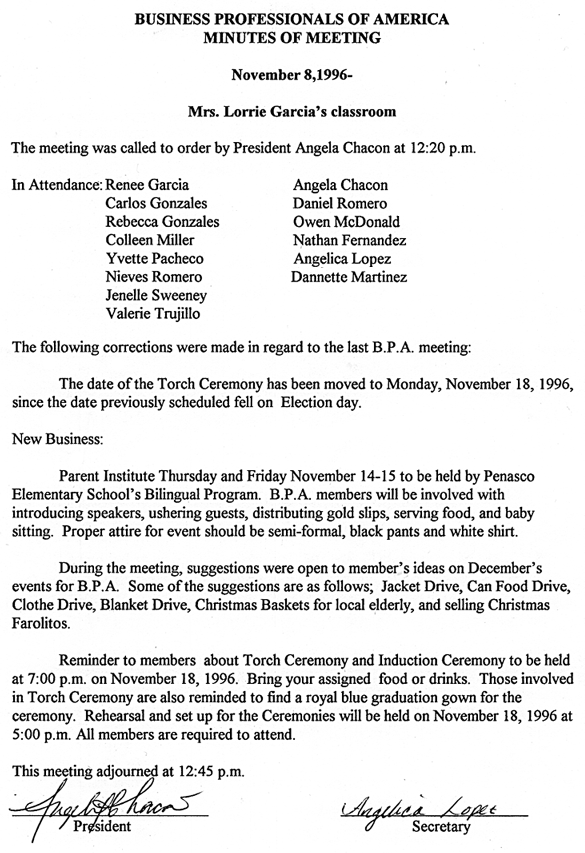 Return to Top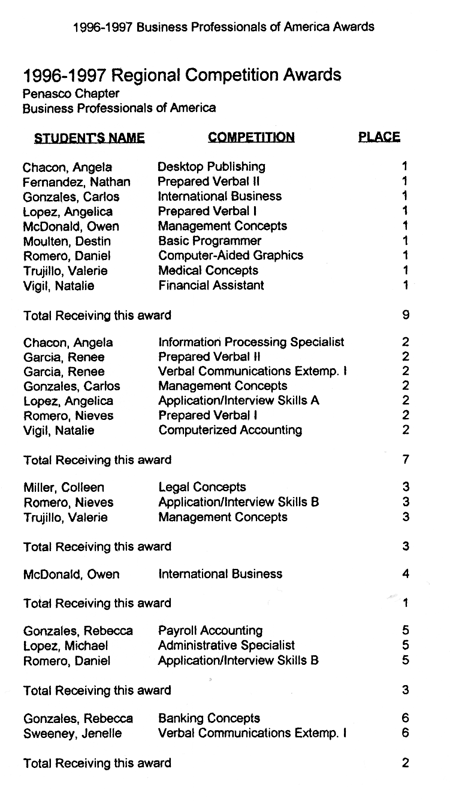 Return to Top





Peñasco Business Professionals of America Home