Northern New Mexico Virtual Archive
Communities of Northern New Mexico


Picurís Pueblo, 1941. Photo by T. Harmon Parkhurst. from Indian Tales from Picurís Pueblo;
Ancient City Press, Santa Fe, NM, 1989.
Photo courtesy of the Museum of New Mexico, Neg, No. 3346.


Pikuri

Picurís Pueblo
"Those Who Paint"
THE HIDDEN PUEBLO
Welcome to the beautiful Picurís Pueblo, located in a hidden valley of the Sangre de Cristo (Blood of Christ) Mountains of Northern New Mexico. People from all over the world come to visit our traditional, peaceful village.

AN ENDURING HISTORY
Spanish explorer Don Juan de Oñate called them "pikuria" - those who paint. Over 400 years later, the tranquil Pueblo of Picurís remains isolated and little-known in its sheltered valley in the Sangre de Cristo Mountains along the banks of the Rio Pueblo. The people of Picurís migrated to their present location 750 years ago, around 1250 A.D., from a larger pueblo in the Pot Creek area, which had a population of 3,000, the ruins of which are still in the area.

RICH CULTURE OF PICURÍS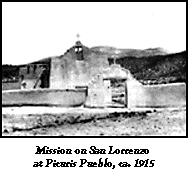 While Picurís is the smallest of New Mexico's 19 pueblo tribes, with 334 inhabitants, it enjoys a rich cultural heritage and abundant recreational opportunities. The 200 year old San Lorenzo mission was recently restored using original building methods, hand-hewn corbels, vigas, and various artifacts found during excavation. Volunteers molded thousands of adobe bricks by hand, and the pueblo is thankful to all who helped in the restoration.
Recently the pueblo restored its spiritual connection to the buffalo by maintaining a growing herd.

CULTURE, RECREATION, CUISINE
The Tribal Museum displays historical artifacts. Contemporary arts and crafts on display can be purchased. Visitors can relax in the Hidden Valley Restaurant where both Native American specialties, chilies and stews, and traditional American fare are offered. Two scenic, well-stocked fishing ponds along with campground and picnic areas provide secluded getaways for the road weary traveler.
The Village's restaurant, museum, and gift shop are tribally-owned. In addition to the Picurís Pueblo village attractions, the pueblo is a majority owner in a partnership that operates the Hotel Santa Fe in Santa Fe, NM.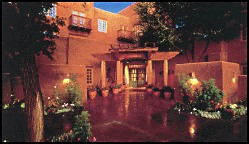 PICURÍS CREATIVITY
The artists of Picurís have traditionally been potters, though there are also painters, weavers, sculptors, and a silversmith. Early pottery consisted of white or grey vessels painted with black designs, which can be seen in the museum.
Today's pottery is recognized for its sparkling, bronze-like finish. The rare clay containing mica, is found in the mountains located northeast of the Village. These unique pots are used for cooking and are said to enhance the flavor of food.
We host an Arts & Crafts Fair each year, the first weekend of July. This is an opportunity to view and to purchase native weaving, jewelry, sculpture and beadwork from our village and visiting aritists.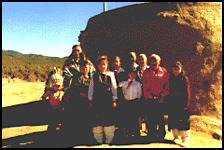 CULTURAL CELEBRATIONS
The Picurís people still conduct their ancient traditional ceremonies in private in their kivas. During certain times of the year, however, ceremonies are open to the public. You are welcome to join us for these public dances and events.

Please inquire before photographing the dances.

LOCATION OF PICURÍS PUEBLO
Picurís Pueblo is 60 miles north of Santa Fe on NM 68, 13 miles east of the junction at Embudo, on NM 75. only 24 miles southeast of Taos, NM. Or, take the Scenic High Road on NM 518 to NM 75 and go west to Picurís.


P.O. Box 127
Peñasco, NM 87553
(505) 587-2957 (Visitors Center)
or (505) 587-2519

Archive Home

Whole Archive Listing

Other Links