| Home | Purpose | Gazette | Meetings | Board | Members |
September 8. 1998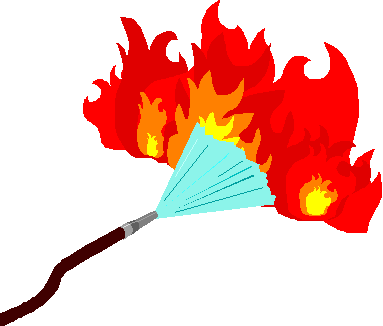 New Fire Station - "On Fire"



The La Lama Fire District was created by the Taos County Commissioners on July 14th, 1998. The Forest Service has given the county permission to use approximately one acre of land for a fire house and community center. This land is located north of Rita Hall's property and across the street from the house that Mark Rogers used to own. The fire district is now in possession of a fire truck that the County provided - it used to be operated by the Rio Fernando district. We also have some miscellaneous firefighting equipment donated from Taos Municipal Fire District and scavenged from other places. More is needed and Chief Bill Reifsnyder is working on that. The fire truck is in need of repairs - rather than incur that expense it is likely that it will be swapped shortly for another truck, compliments of the State Fire Marshall.
We owe a lot to County Commissioner Sophio Ortega for his past and continuing help in gaining County support and assistance for this project. And we look forward to his continued interest as a Commissioner after the upcoming election in November. Please remember that when you vote.
Bill Reifsnyder has agreed to be the initial Fire Chief and will serve in that capacity until elections occur next March. All volunteers in good standing will be eligible to vote for the Chief and the two deputies at that time. Good standing means at least six months on continuous active duty and at least one hour of training for each month of continuous service. As the fire district serves the community, the Board of Directors of LLNA can veto the candidates elected and call for a new election - as a check and balance. It is actually the County that has authority to appoint the Chief - so the results of the election and the LLNA Board acceptance are submitted to the County for consideration and generally approved. The new Chief takes office on June of each year.
Currently there are eighteen Volunteer Firefighters: Roy Blaze, Bill Carmen, Marie Carmen, Rick Dove, Justin Friedman, William Grubb, Rita Hall, Carol Hinton, Miles Hinton, Steve Hinton, Jauquin Klein, Rick Klein, Lee Lester, Bill Reifsnyder, Al Sutherland, Tony Trujillo and Ray Zara.
The first official training day for all volunteer firefighters was held Saturday, Sept. 13, 1998, from 8:00 a.m. to 11:00 a.m. at the Dove's barn, where volunteers got bunker gear (coats and pants) if they fit. The organizational plans will be discussed and the nature and schedules for training will be discussed and decided.
Training and the officially logged hours for each volunteer is a requirement of the ISO organization that establishes the fire insurability and insurance rate classification for houses in the district. It is also a requirement of the State Fire Marshall in order for the district to receive operating funds.
The mission of the Fire District is to obtain Class 8 coverage for every single residence in the district as soon as possible.
As to the fire house...an architect has been engaged by the county to draw up suitable plans - and expectations are that something capable of protecting the fire truck through this coming winter will be in place before the end of the year.
Bill Woodall of Woodall Brother's Builders, and who owns property here in the Lama community, is also involved. The current expectations, are to have have Bill Woodall serving as general contractor, with a large part of the construction labor coming from the community as volunteer help. The building is probably going to be frame-based as this makes best use of volunteer labor and contributed materials and services. A fund raising drive will get kicked off shortly, as will the call for construction volunteers. If you would like to help in fund raising, help obtain free or discounted materials and services, and/or help as a construction volunteer, please call Bill Reifsnyder at 586-1511.
Lama Roadwork Update
The Taos County Highway Department will be working on the Upper Lama Road toward the end of September and or the first part of October. 635 cubic yards will be spread on the road. The road leading up to the Lama Foundation will apparently be worked on as well. Sofio Ortega, our Taos County Commissioner inspected the road with the head of the Highway Department, Lester Arellano and together they determined the areas most in need of work. .
Acequia News
MayorDomo, Tony Trujillo has announced a ditch cleaning and flume restoration project for Sunday, September 27th at 10 a.m. Temporary repairs were made after a bad storm on September 1 by an emergency repair group. Additional work is necessary before the onset of winter. Tony is requesting everyones co-operation for this project.
Justin Friedman reports that the giant green thing sitting in the ditch near the Klein's driveway is not a genetically engineered water melon. It is an irrigation gate made possible through a grant by the Taos County Soil and Water Conservation District. A $2500 grant was provided along with the design for the gate. While the gate may be a bit of an overkill, it is getting the job done in a more efficient manner than the previous sand bag and mud gate. Call Mauro Rosales at the TSWCD at 751-0584 for more information for future projects.
Music Scene
Jeremiah (JB) Sutherland continues to make great music all around Taos. Look for him on Sundays at the Cafe Tazza from 11 a.m. to around 1 p.m.
Bob Aldo played all of August at the Taos Kangaroo with his partner, Sambhu. They are in the process of recording a CD of old blues. We will keep you posted on release dates and availability.
Al Sutherland played at the Harwood Museum for the Gersh Retrospective Opening in June and at a number of other venues this summer, including the Adobe Bar. Love good jazz? Find out where Al is playing.
Upcoming Events
Lynn Spier will have a booth at the upcoming Wool Festival, October 3rd and 4th at Kit Carson Park from 9a.m. to 5 p.m. The spotless Harley parked at the booth belongs to husband Ron. Lynn will feature naturally dyed Churro yarn for sale along with her beautiful rugs. Lynn is a serious weaver who lived with a Navajo family for two weeks to study with a master weaver and also studied with Pearl Sunrise at the Taos Institute of art. Stop by her booth and say "hi". If you are looking for a tennis partner give her a call.
Peggy Nes and CeCe Dove have plans to have a booth at the Christmas Fair in Taos. It is too early for dates and times, so watch for flyers and announcements later in the fall. Peggy will have her unique handprinted cards for both holidays and general occasions plus she'll probably have a surprise or two for us. CeCe will have baked goods from fresh bread to fruitcakes and whateve else strikes her fancy.
The Second Annual Gathering for Mother E.A.R.T.H. will be held on September 18 and 19 at the Pojoaque Pow-Wow Grounds in Pojoaque, NM. This event is sponsored by Tewa Women United.