Cameron Gillen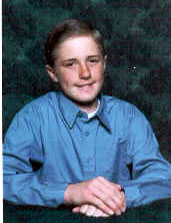 It all started out when I was born in Albuquerque, I had a lot of compliments on how cute I was. All of the nurses in the hospital told my mom that her baby was very healthy and strong. Well I grew quite a bit before my younger sister was born, we are fifteen months apart. When my grandma brought me to the Taos hospital to see my newly born sister I was about three times her size. Well it wasn't that long before she caught up to me in size but not in strength. I would pull her around in a Radio Flier wagon. She would tell me which way to go, how fast and slow she wanted to go. Well the years have passed on and now I don't pull her around and she doesn't give me any more orders.
In the year 1993 we opened a candy store in the Taos Ski Valley. At that time we were little rug rats running around the resort center and getting to know every one. We have owned the candy store for 9 years, we know everyone up there and all their names. Katie (my younger sister) and I can run the shop with ease when it is busy. We know how to run the cash register, the espresso machine and everything else.
My dad has a tree transplanting business that he runs in the summer time. He has a skid loader and two semi trucks, one of them has a Tree Spade and the other has a Knuckle Crane. I can run all of the equipment and drive the trucks. I like going out early in the morning to help my dad with his pride and joys.
My hobbies are raising show and egg laying chickens. I started raising poultry about two years ago and have enjoyed it ever since. I plan on forming a poultry club that is open to the public. I have shown my birds in the Taos County Fair and have done pretty good in showing them. Last year I won a meddle for showmanship and was very proud of it. I love to be around animals and talking about them.
I do a lot of sports like skiing, camping, wind surfing, soccer and dirt biking. I am a very active person and can't sit inside and watch movies all day. I love everyone in my family.
Check out the web page I made on the Costs of Smoking.
---