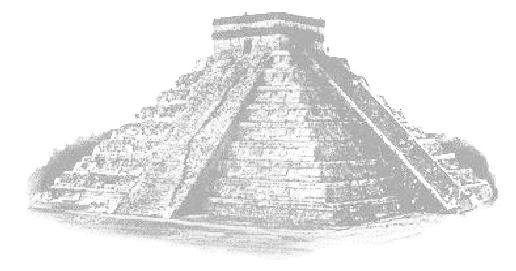 MESOAMERICAN CULTURES
(CENTRAL AND SOUTH AMERICA)

Designed by
Carol Rael
INTRODUCTION
This lesson was developed as a project for La Plaza and the Questa School District with the purpose of developing WEB Pages to complement classroom instruction. Students will become familiar with a variety of aspects relevant to Mesoamerican cultures.
CONTENT AREA AND GRADE LEVEL
This lesson is intended to familiarize students of Spanish with the Meso-American Indians, early inhabitants of Spanish-speaking countries of Central and South America. The lesson may serve 9th through 12th grade students. The students will select and compare particular categories.
CURRICULUM STANDARDS
Students will communicate in Spanish to express feelings on a historical topic of interest.
Students will gain knowledge and understanding of Mesoamerican cultures.
Students will develop an understanding of Mesoamerican cultures including such elements as value systems, language, traditions and individual perspectives.
OUTCOMES
Students are to prepare a one-page report in Spanish comparing and contrasting a category of their choice regarding the Meso-American Indians. The students will have a week to complete research and two days to type reports.

---

TO THE STUDENT: You will be selecting a category from table 2. The category you select should be of particular interest to you. Using the Web resources provided, any new sites you may discover, as well as classroom information, you will compare and contrast your selected category in each of the three cultures shown in the Cultures table. Include one graphic in your report which is relevant to your selected category. (Note:Since there are limited sites listed, feel free to discover new informative sites and include in reference section with an *.)

Particulars: Introductory Paragraph-What will you be presenting?
Paragraph 1-First point
Paragraph 2-Second point
Paragraph 3-Third point
Conclusion-What did you present?
Reference Page-Must have at least three references listed

RESOURCES

CULTURES

CATEGORIES

Select one category to compare and contrast.