DRAGONS, DRAGONS, DRAGONS
by
Reyna O. Gonzales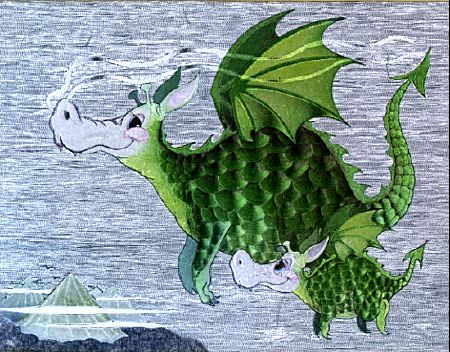 ---
INTRODUCTION
This lesson was developed as part of a computer training class offered through Questa
Independent School District on creating a web page.
After viewing the film Mulan with my students and discussing their favorite characters, I found that dragons sparked their interest but we didn't know much about them so with them in mind, I have created some lessons for them to explore.
GRADE LEVEL AND CONTENT AREAS
Lessons can be modified to be used with students in k-3. They involve Social Studies, Geography, Math, Language Arts and Fine Arts. Since young children develop concepts, language skills and knowledge through play and experience. These lessons will focus on active exploration, guided discovery and concrete activities. Creative expression will be developed through integration of Art, Music and Drama.
CURRICULUM STANDARDS
Language Arts
Social Studies
Music
Art
Math
IMPLEMENTATION
Depending on the age group and knowledge of students, lessons and time will need to be flexible. Teacher preview of all lessons is suggested.
RESOURCES
Use the following web sites.
dragon pictures and other dragon sites
http://www.scri.fsu.edu/~jeannie/Dragons/dragon-pics.html

dragons, dragons and more dragons
http://www.bigwave.ca/~bmcgee/dragons.htm

Animals, Myths and Legends
http://www.ozemail.com.au/~oban/

TECHNOLOGY
Internet Accessible computer
VISUAL MATERIALS
Dragon Pictures
Worksheets containing unfamiliar vocabulary
Puzzles
Coloring Sheets
ENTRY SKILLS
Lessons require reading which may be done by students or by the teacher. If students are to work independantly, they should have a basic knowledge of using the internet to locate specific addresses on the World Wide Web.

EVALUATION
Upon completion of lesson, students will be able to identify differences in Dragons and match them to their location of origin. They will be able to express their ideas in words and/or drawings relating to the exploration of myths and legends through various media.

CONCLUSION
Through this lesson students will be introduced or build on their knowledge of Dragons and their origins.