Patient/Consumer Links
Growing Up With Diabetes
---
Growing Up With Diabetes - Jacklyn, Taos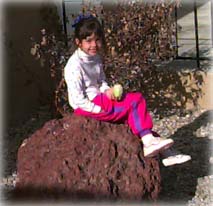 Jacklyn is 7 years old and goes
to Taos Elementary School. Jackie
found out she had had diabetes
about 3 years ago. She and her
family learn about diabetes from a
movie and a book from her doctor.
She visits her endocrinologist every 3
months and sees her doctor, the
nurse educator and the nutritionist.
There are 3 important things that help Jackie
keep her blood sugar in balance:

Exercise, Healthy Foods, and Insulin "Shots".
Exercise
Favorite Foods
Jackie exercises by:
riding her bike
racing with her brother
running in Kit Carson Park
dancing to county tapes with her sister
practicing cheers with her cousin

      

Jackie enjoys eating:
grilled cheese
meat - especially hamburger and pork chops
fruit - especially pears, peaches and apples
Jackie's mom and dad give her insulin shots twice a day. Jackie gets to pick the shot spot and remembers to rotate spots every Monday. Jackie says "when the insulin is cold, it helps if her mom warms it first."
Jackie also gets her blood sugar tested 4 times a day . She calls her blood sugar tests "pokes". Now her mom , dad or school nurse do most of the pokes, but by her next birthday in February, Jackie wants to do the "pokes" on her own.. Sometimes Jackie goes along to the American Red Cross classes that her mom, Kim, teaches and shows the students how her glucometer works. Jackie can usually tell when her blood sugar is low, because she feels shakey. When she feels this way, she gets her mom or dad or the school nurse and usually eats a piece of regular candy to raise her blood sugar. Otherwise Jackie usually eats sugar free candy.
On a family vacation to Las Vegas this past summer, Jackie discovered sugar free syrup. In Taos, Jackie can get sugar free syrup at the Quality Inn where her mom works. She likes the syrup on pancakes and waffles.
Jackie has lots of other ideas about living well with diabetes and will visit our web site again soon to share more of the things that she is learning.
---