PERSONAL STORIES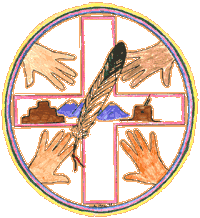 Here are stories from our Clinic Staff & patients who are learning to use the Internet to get more information about living healthier lives.
---
CLINIC OUTREACH TRAINER
My name is Annabelle Romero, Native of Taos Pueblo. I am a Clinic Outreach Trainer at Taos/Picuris Indian Health Center as well as this Web Site manager. First of all, my THANKS goes out to La Plaza Telecommunity Foundation and staff, Taos/Picuris Health Center and staff, The Diabetes Wellness Assoc., National Library of Medicine, U.S. Department of Commerce TIIAP and the W.K.Kellogg Foundation for their interest, hard work and patience in helping to bring this Technolgy into our native communities.
I first became computer literate thru UNM Taos couple years back and have enjoyed my coming back to working with computers much less learning what the Internet is about. My interest has led me to pass on this knowledge to my people of Taos Pueblo.
Very Special Thanks goes to:
Barbara Hau - TIIAP Grant Director, La Plaza
Carolyn Johnson - Computer Specialist, Taos/Picuris Health Center
Nancy Montano - Outreach/Content Coordinator, La Plaza.
Loretta Suazo - La Plaza Training Learning Center Manager
Alfreda Martinez, Taos/Picuris Health Center
Dr.Endres, Taos/Picuris Health Center
Dr. Dobbs, Taos/Picuris Health Center
These are some of the health related sites I have found useful and educational:

Diabetes Wellness Connection
Indian Health Services
National Library of Medicine



LETTER OF THANKS
To: National Library of Medicine/La Plaza Telecommunity, Barbara Hau and Annabelle Romero.
Fr: Mr. Alejandro Ray Lujan, Taos Pueblo resident
Subject: Letter of Thank You and support of a service so completely necessary and needed.
Date: July 25, 1997
I am a Taos Pueblo Indian, age 64, who found help thru the Indian Health Clinic at Taos Pueblo Indian Reservation. This Information I recieved consisted of Internet data of researched material not otherwise available on the following subjects: Diabetes connected, Neuropathy, Diet, materials available from organizations, Dementia, heart health information.
As a 20 year Veteran, Our Veterans Hospitals have been a big let down and a disappointment to me as far as getting information and help.
I am a Heart Patient with 3 open heart surgeries, 2 triple Bypass operations, broken ribs and all that goes with the ordeal. I suffered depression however slight but capable. I am diabetic now, under control and medication.
I whole heartily support and praise La Plaza Telecommunity and its staff for the wonderful service they are providing Northern New Mexico, not only did I learn how to use the computer and surf the network for information but got printouts on the subjects I needed to address my heart disease and diabetes problem. Being from the reservation we do not have such services available. Our county of 20+ thousand needs a place plus computers, printers and personnel to service the people of Northern New Mexico. THANKS

Please check back for more stories.