| | | | |
| --- | --- | --- | --- |
| | | | Cesar Chavez Day In Taos |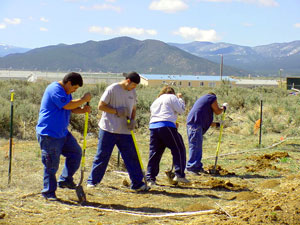 APril 23rd is usually is like any other day in Taos because most people don't know how important Cesar Chaves is ,but at the Rocky Mountain Youth Corp I learned more about this man than I had known. The Rocky Montain Youth Corp (RMYC) helped me figure out just how important one man really can be. On this day eight years ago Cesar Chavez passed away. We began in the morning with a prayer for him on his journeys and that we would have a nice day to plant trees in his honor. We then boke up into four groups to plant aprcot, plum, and cherry trees. After almost all the trees were planted we had a large potluck where the whole town was invited. We then had some guest speakers who had worked with Cesar in the 1960s, 70, and 80s. When we went back out side we finshed planting the trees and started watering them AT the end of the day we sang De Colores and each of us then read a quote from Cesar Chavez and said what it meant to us.
Learn more about Cesar Chavez