Northern New Mexico Virtual Archive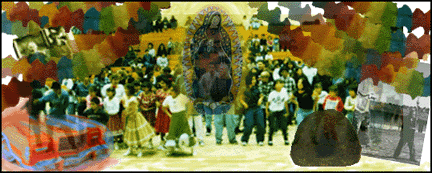 ---

Peñasco Multicultural Fair

On November 14 & 15, 1996, The Peñasco Spanish Club held a Multicultural Fair. The purpose of the fair was to educate the students and community about the diverse cultures in Northern New Mexico. Many students contributed projects to the event. These projects can be found in various places in the archive. The subjects which students used for their projects can be found in our listing "Possible Subjects for Archiving" under the Contribute heading.
We have made our notes on organizing a multicultural fair available,
in case you are interested in organizing one at your school.
Organizing a Multicultural Fair
---
November 14, 1996
The first day will be as follows:
8:30 to 10:00

11:00 - 1:00

1:15 - 2:00

set up exhibits

students, K-12, may observe the exhibits in the old gym

"Tarde Musical": Mariachi groups will play. We will invite the groups from Taos High School, New Mexico Highland University, Mr. Miquel Santiago, and Peñasco High School.
November 15, 1996

8:30 am to 5:00 pm

1:15 pm - 2:00 pm

The exhibits will be open to the community and anyone else who would like to go to the festival.

Students will attend a presentation of stories (cuentos) by Paulette Atencio and music by Catalina Rios' flamenco group.
The concession stand will be open during lunch and during both presentations

Students will be encouraged to support their culture by wearing an appropriate costume during the fair events.

During lunch on both days, we will have piñatas and Spanish music to entertain students.

Archive Home

Whole Archive Listing

Other Links