Northern New Mexico Virtual Archive
The People of Northern New Mexico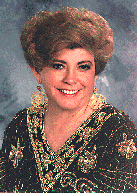 ---
Paulette Atencio
storyteller
Since I was a little girl growing up in Peñasco, New Mexio, I have been intrigued by storytelling, largely through the memorable experiences of listening to my mother's stories. As children, we would gather at her feet, with only the glowing light from the fireplace, listening attentively to the tales of comedy, romance, tragedy, and witchcraft. She could carry us to faraway places where people cried, laughed, played, and suffered. Some were clever, and others faced horrible situations that completely changed their lives. Our own travel experiences were so limited that it was necessary for us to use our imaginations to their maximum capacityl My adventures into the realm of make-believe were so vivid and exciting that they were forever imprinted in my memory.
The years passed and the thought of becoming a professional storyteller was the furthest thing from my mind. My first experiences with formal storytelling came as I shared these stories with my own children and with other children whom I baby-sat. Soom my own children were in school, and I became a parent volunteer and taught a class on foods and cake decorating. After the hand-on presentation, I would often relate short cuentos (stories) to my students. I quickly discovered that the stories were as important, if not more so, than the initial planned activity. Storytelling has fallen out of practice in many households; it is no longer a ritual of childhood, as it used to be. I felt that the younger generations were lacking in a vital and important part of their heritage, and so I decided to continue volunteering my storytelling services to the schools.
A few of the stories, I later came to realize, were told in many different cultures around the world - stories, such as, Little Star or "La Estrellita", an Hispanic Cinderella story. A few of the stories told to me had missing links; it took years of searching in order to complete the stories. For example, in the story "The Singing Flower", my mother was unable to remember the words that the flower had sung - an integral piece of the story. Twenty-four years later, while I was working in a nursing home, an elderly woman sang the missing verse and the mystery was solved. In "The Beautiful Dark-Skinned Lady", I did not know the message that the dead mother conveyed to her daughter. Thirty-two years later, I was listening to a cassette of some poetry by a Spanish poet named Gustavo Becquer and discovered the lost words. At that moment, I realized that another story was complete. A person has to truly love storytelling to fully understand just how important it is to bring a story together.
Having the ability to captivate an audience with just my voice is a rewarding experience. Storytelling is an important means of perpetuating rich cultural traditions from generations past.
This work enables me to share a few of my stories with many wonderful people throughout the United States, as well as in other countries. Each story has a place in my heart because it takes me back to my childhood days.
May God bless you always, and thank you for traveling with me to the land of make-believe!
Paulette Atencio
Chama, New Mexico



Other stories by Ms. Atencio:

The Weeping Woman (La Llorona)
As told by Paulette Atencio


Little Star (La Estrellita)
As told by Paulette Atencio


Link to more stories by Paulette Atencio
Archive Home
Whole Archive Listing
Other Links