La Plaza was invited to be part of a contingent that visited Xalisco, Nayarit in Mexico as part of ongoing efforts to establish a sister city relationship between the Town of Taos and Xalisco. Mayor Frederick A. Peralta has announced that he will introduce a resolution to the Town Council this month naming Xalisco Nayarit as a "sister city" to the Town of Taos.

The Town of Taos was introduced to the Municipio of Xalisco last year through a management exchange program sponsored by the International City Management Association (ICMA). Taos was selected by ICMA as one of three cities to participate in a pilot program between the United States and Mexico.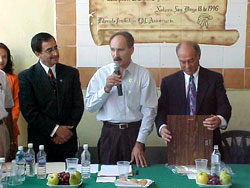 Town Manager Gustavo Cordova and Mayor Peralta were invited to visit the Municipio of Xalisco on August 10-15, 2000 to learn about their form of government, their relationship to the business community, and the services they provide to their citizens. Their host during the brief visit was Oscar Sanchez Ahumada, President Municipal of Xalisco.

The Municipio of Xalisco (the equivalent of a combined city/county government) has approximately 40,000 residents. The Municipio is located in the State of Nayrit, and just outside the capital city of Tepic.

It is predominantly an agricultural community, rich in coffee, corn, sugar cane, avocados, mangos, and tropical fruits. Xalisco has a strong arts community, and is surrounded by high mountains, similar to Taos.

During their visit to Xalisco, Presidente Ahumada introduced the Mayor and Town Manager to the leaders of the Chamber of Commerce, their Industrial Chamber, the Tourism Department, the Municipal Council, and to the State Legislature. The Mayor was asked to arrange for a return visit that would include representatives from New Mexico's tourism and economic development sectors.

Last week, Mayor Peralta arranged for a small contingent of tourism and economic development officials to travel to Xalisco and Tepic. The contingent included Doug Swinehart, President of the Taos Business Alliance; Gayle Martinez, Executive Director of the Chamber of Commerce; Nancy Montano, La Plaza Telecommunity; Carlos Martinez, NM Economic Development Department; Mark Trujillo, NM Tourism Department; Margarita Maes, Town of Taos; and Gustavo Cordova, Town Manager.

The contingent met with the Presidente of the Canacintra, Lic. Hernan Gonzalez Garza. This organization is responsible for economic development projects related to industry. Mr. Garza explained how the Canacintra could work closely with economic development officials from New Mexico to promote exports from both countries, and help each other economically.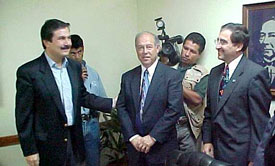 The contingent also met with Lic. Raul Mejia Gonzalez, Presidente de la Comision de Gobierno Legislativo (President of the State Legislature). Mr. Gonzalez agreed to facilitate a return visit by government officials from the State of Nayarit, and the Municipios of Tepic and Xalisco in hopes of reciprocal economic developments between the two states. The same commitment was expressed by the office of Lic. Antonio Echevarria Dominguez, Governor of the State of Nayarit.

One of the last official acts witnessed by the New Mexico contingent was the approval of a resolution by the City Council (Cabildo) of the Municipio of Xalisco on May 25, 2001 designating a sister city relationship with Taos. The resolution was hand carried by Mayor Peralta to Taos, and will be considered by the Town Council at their regular meeting of June 19, 2001.

The resolution calls for joint cooperation between the two cities in the areas of cultural exchange, education, health, tourism, construction, technology, and other service activities of mutual benefit. The resolution recognizes the diversity of population, the differences in political systems, and the economies of the two states.

If adopted by the Town Council, it will allow for exchanges in technological ideas, initiatives to promote tourism between the two cities and the two states, and approaches to economic development that may help both communities. The bottom line is to open new doors to communication between both cities, with an objective of improving tourism and economic activities.

This is the first time that the Town of Taos has pursued a sister city relationship with any other community. It is also a first for the Municipio of Xalisco. This is the third exchange between the two communities in the past year. Both cities felt that it was important to first develop a good relationship prior to considering a partnership as a sister city.

When asked what would be the first objectives if the resolution is adopted by the Council, Mayor Peralta responded, "tourism promotion between our two cities will be our first priority. Taos is recognized as a tourist destination resort community. Nayarit has many tourist destination communities such as San Blas, Campostela, and Nuevo Vallarta. We want the good citizens of Nayarit to know about Taos, and to come to Taos. Likewise, they want us to come and visit them".

Learn more about the State of Nayarit and the municipio of Xalisco at:
http://www.nayarithoy.com.mx/municipios/xalisco.htm