La Jicarita Enterprise Community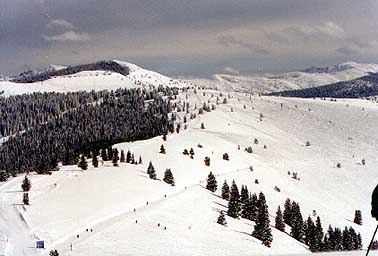 About|Projects|Communities|School to Work
La Plaza
La Jicarita Enterprise Community, Inc. is involved in establishing community networks for the purpose of developing for profit companies in Northern New Mexico. Serving the areas of Taos County, Southern Rio Arriba County and Mora County, La Jicarita serves as the representative to the U.S. Department of Agriculture for rural development in these areas which have been designated as one of 33 Enterprise Communities in the United States.
Our Vision
Una vida buena para todos. A good and wholesome life for everyone. Life is a process; hence, the community's vision is a process not a state: the continuous improvement of the collective quality of life by increasing both the tangible and intangible wealth of the community through nurturing of the physical and spiritual.
La Jicarita is directed by 12 board members representing the following sectors: 1) Public 2) Education 3) Private For-Profit; and 4) Private Non-Profit. Taos, Rio Arriba nd Mora counties each appointed one member of each sector. All actions made by the Board of Directors are based on consensus.

PROFESSIONAL CORE/STAFF

Ron K. Martinez, CAO
Ben Sanchez, Project Coordinator
Michelle Romero, Admin. Assistant
Michael Rivera, STW Coordinator
TBA, Admin. Assistant
Joyce Romero, Career Specialist
Barbara Bustos, Career Specialist
Andrea Garcia, Career Specialist

BOARD OF DIRECTORS

Marcel Torres, President
Lorenzo Valdez, Vice-Pres.
Gus Cordova, Treasurer
John T. Romero, Secretary
Anita LaRan
Lillian M. Sanchez
Henry Sanchez
Patricio Garcia
Harry Cordova
Vicente Abeyta
La Jicarita is funded through the Empowerment Zone Enterprise Community Initiative, a project of the USDA Rural Development Program.

For more information please contact:
La Jicarita Community Enterprises
P.O. Box 546
Penasco, NM 87553
505-587-0074
or
LJEC, Mora Sub-Office
P.O. Box 777
Mora, NM 87732
505-387-2298
Email: ljec@laplaza.org