Taos Day School Eagles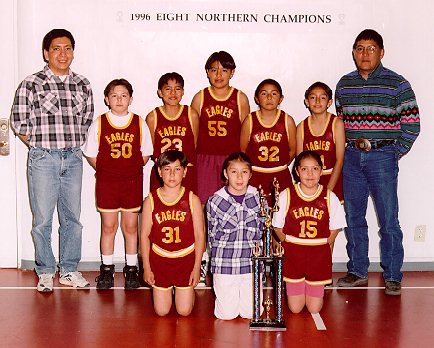 Eight Northern Basketball Champions
1996
From THE TAOS NEWS (Thursday, March 28, 1996)
Eagles cap undefeated season with second league title
Taos Pueblo Day School was considered the favorite heading into this year's Eight Northern Pueblos Basketball Tournament, held at San Ildefonso Thursday through Saturday (March 21-23) and for good reason.
The Eagles, poised in the tourney's top-seeded spot, were fresh off an undefeated regular season, having posted a 12-0 mark.
That trend continued Saturday when they defeated the Santa Clara Braves, 63-41, in the championship game to earn their second-straight league title.
Taos was led by sixth-grader Vernon, who scored 31 points in the title game and was named to the all-tourney team.
The win did not come easy, however.
At one point, Santa Clara held a 20-15 lead, the first time all season Taos had trailed by more than two points.
But Taos managed to tie the game at 20 at the half and dashed any hopes Santa Clara might have had by posting a 29-6 third quarter.
Vernon had 13 points in that pivotal quarter, and fifth-grader Peter had 10.
Peter trailed Vernon with 19 points in the game, followed by fifth-graders Antonio with seven and Cody six. Santa Clara was led by Frankie with 17.
Taos earned its trip to the final game by besting San Ildefonso the night before, 52-34. Taos jumped out to an early 18-2 lead, and the closest San Ildefonso could come was nine points in the third quarter.
Joining Vernon on the all-tourney team was fourth-grader Eliza, the only girl on the Eagles squad.
The Taos Day School team also includes fifth-grader Eric, and fourth-graders Jorden and Dylan.
Athletic director Frank Samora said Taos had tremendous community support during the tourney, as Taos fans easily outnumbered those for the other schools.
The 1995 Championship
The 1997 Championship