Taos Day School Eagles
Eight Northern Basketball Champions
1997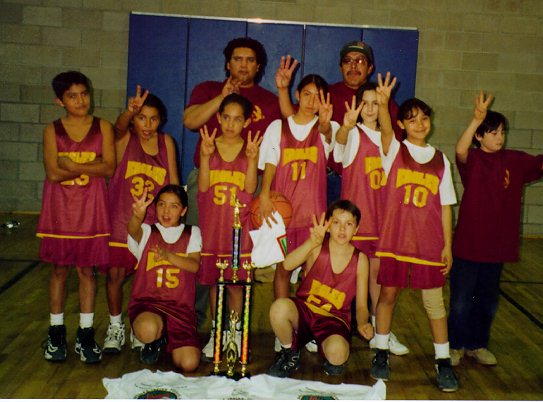 From THE TAOS NEWS (Thursday, March 13, 1997)
Eagles 'three-peat' as league champs
The domination the Taos Day School Eaglesheld over its Eight Northern Pueblos Elementary Basketball League opponents all season continued in the season-ending tourney Saturday (March 8th), as the Eagles cruised to their third championship in as many years.
In fact, the Day School has won four of five titles since the league began play in 1991.
The Santa Clara Hawks were the Eagles' final victim, losing 51-18 in the tourney championship game.
Taos had gone through the regular season undefeated for the second straight year, and were once again the number one seed for the tournament. Bolstered by four returning starters from last year's undefeated season, Taos was never really challenged throughout the 1997 regular season.
The tourney was no exception.
Although Taos, led by head coach Robert Espinosa, struggled during much of its semi-final game against host Ohkay Owingeh (San Juan) Friday (March 7), it managed a 27-12 halftime lead and held on to win 37-22.
Peter, as he had been doing, led Taos in the scoring department with 24. Antonio accounted for eight Eagle points, Cody and Eliza two points each and Kyle one.
The outcome of Saturday's championship was never in doubt, as Taos "came out with all guns blazing," said school athletic director Frank Samora.
Taos led at the end of one period 16-7, 27-11 at halftime and 38-16 after three. Peter led with 22 points, including a three-pointer at the end of the first quarter which propelled the Eagles to the emphatic win.
Antonio had 17 points, Cody eight and Kyle and Lynnette two points each.
Other team members include Michele, Lavette and Eliza.
Overall this season, the Taos Day School Eagles compiled a 23-4 record. The team was 10-0 in Eight Northern league play.
The 1995 Championship
The 1996 Championship