Taos Day School Booster Club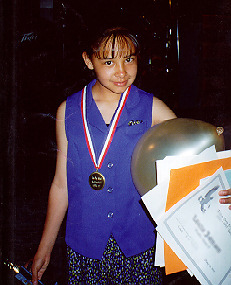 From THE TAOS NEWS (Thursday, June 12, 1997)
Day School honors its own
Eighty-eight Taos Day School athletes, including 73 of 105 students in grades three through eight that participated, were honored at the school's annual athletic banquet May 28 at El Taoseno Restaurant.
Recognition was given to the students who participated in the school's 10 sports this past season with medals, plaques and trophies, along with certificates of participation for each sport.
Special recognition was given to sixth-grader Naarah for her years as a member of the cheerleading squad; and to sixth-grader Peter, named most valuable player of the school's Eight Northern championship basketball team.
Special recognition was also given to departing soccer coach Ezra Bayles, who has been named an assistant soccer coach at Colorado College in Colorado Springs, Colo., for his four years of service to the program; and to parent Gina Yazzie, for her support and dedication to the Booster Club.
In addition, the Taos Day School Booster Club held its spring raffle drawing during the athletic banquet, and movie passes were given to the three students who sold the most raffle tickets: Fifth-grader Lavette, Naarah and second-grader Courtney.
The day school's second grade class was also awarded an ice cream party for having the largest percentage of their raffle tickets turned in.
The Booster Club would like to thank all those who helped support the athletic program with the raffle, either by making donations or buying raffle tickets.