News and Notes
Only two students returned from last year's team: Eliza and Lavette.
Only four students played in 10 or more games: Eliza, Lavette, Alex and Amanda.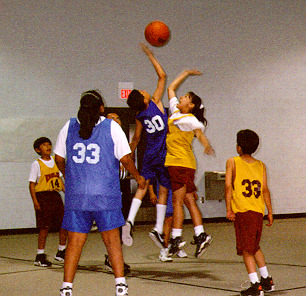 Due to Taos Pueblo Community Center problems, the Eagles played only one home game, in the school's small gym. Two other home games were played at the Enos Garcia Gym, while all the rest of their games were played on the road.
Taos played a doubleheader on March 3rd, winning both games, over Tesuque and San Juan.
In three wins over Picuris, Taos outscored the Buffaloes 112-14, holding them scoreless in 7 out of the 12 quarters played.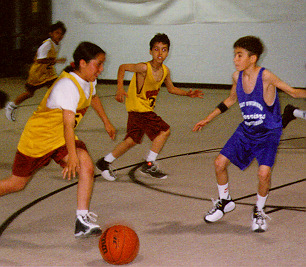 Both Eliza and Lavette broke the Taos Day School record for points in a season by a girl. Lavette with 84, and Eliza with 58.
Lavette broke the Taos Day School record for points in a game by a girl with 21 on February 17th against Santa Clara.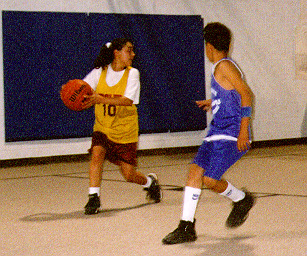 In the Tournament semifinals against Santa Clara, Taos was the underdog, but led at halftime. Taos had no subs, and when Ellery fouled out early in the third quarter, the Eagles had to go the rest of the game shorthanded. The lead changed hands back and forth throughout the second half. Lavette also fouled out with 36 seconds to go in the game and the score tied at 33.
In the Tournament consolation game against San Juan, Taos overcame an 8-point first half deficit to take the lead in the fourth quarter, only to lose by one.
Team Scoring:
| | | | | | | | | | | | | | | | |
| --- | --- | --- | --- | --- | --- | --- | --- | --- | --- | --- | --- | --- | --- | --- | --- |
| | 1/22 | 1/27 | 2/3 | 2/17 | 2/21 | 3/4 | 3/4 | 3/5 | 3/11 | 3/25 | 3/26 | 3/28 | GP | Tot | Ave |
| Lavette | 7 | 8 | 8 | 21 | x | 0 | 4 | 1 | 9 | 8 | 10 | 8 | 11 | 84 | 7.6 |
| Eliza | 2 | 6 | 11 | 2 | 6 | 4 | 2 | 6 | 2 | 4 | 10 | 3 | 12 | 58 | 4.8 |
| Alex | 2 | 8 | 6 | 4 | 12 | 7 | 4 | 12 | 5 | 11 | 11 | 10 | 12 | 92 | 7.7 |
| Amanda | 4 | 8 | 4 | 0 | 4 | 4 | 0 | 0 | 0 | 6 | 0 | x | 11 | 30 | 2.7 |
| Others | 5 | 4 | 2 | 6 | 20 | 27 | 19 | 6 | 13 | 7 | 2 | 10 | | | |
| Eagles | 22 | 34 | 31 | 33 | 42 | 42 | 29 | 25 | 29 | 36 | 33 | 31 | | 387 | 32.3 |
| Opp. | 23 | 3 | 16 | 22 | 4 | 18 | 26 | 33 | 38 | 9 | 38 | 32 | | 262 | 21.8 |