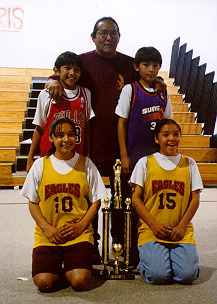 From THE TAOS NEWS (Thursday, April 2, 1998)
Eagles battle back from injuries, fouls to finish fourth
The Santa Clara A- and B-teams took first and second, respectively, at the seventh annual Northern Pueblos Co-Ed Elementary Basketball Tournament March 25 through Saturday (March 28).
But it was the effort turned in by the Taos Day School Eagles and the Ohkay Owingeh Warriors of San Juan in the battle for third which kept the packed crowd at the Picuris Community Center Saturday on its feet.
The two teams traded points through the second half and were never more than two points apart until the final 30 seconds, when San Juan sank a free throw to win the game, 32-31.
"I have never been prouder of out team than I was at this year's tournament," Frank Samora of Taos Pueblo Day School said. "The kids played their hearts out. They could've given up when Ellery fouled out in the Santa Clara semifinal game, but they didn't. Against huge odds, they almost pulled out a miracle."
In the semifinal loss Thursday (March 26) to Santa Clara, Taos was the underdog, Samora said, but still led at the half.
"But when Ellery fouled out in the third quarter, the Eagles, with no one on the bench, were forced to go the rest of the way with four players," Samora said. "Then Lavette fouled out with 36 seconds left to go and the score tied at 33."
"Eliza and Lavette, our only returners from last year's team, both suffered injuries in that game, but kept on playing," Samora said. "They proved more in defeat than they did in victory. Those girls were the heart and soul of our team, and a credit to the school."
Eliza and Lavette both broke the school record for points in a season scored by a girl. Lavette had 84, Eliza 58.
Taos Day School coach Robert Espinosa, who coached the team to three consecutive championship titles in the tournament, said this year had been the toughest.
"No matter how much coaching you do, when it comes to the games, kids have a mind of their own. There's not much you can do from the bench but yell a lot," he said.
James Chancellor, director of the Eight Northern Pueblos Healthier Communities Program, which sponsors the tournament, said this is the first time Picuris Pueblo has sponsored the tournament.
The 1995 Championship
The 1996 Championship
The 1997 Championship