Flat Stanley
Visits Taos Day School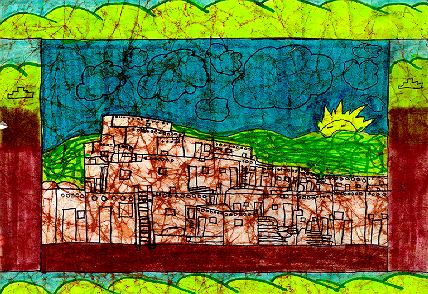 Flat Stanley is an e- mail project based the the children's book of the same name. In the book a bulletin board falls on Stanley and he is flattened as flat as a piece of paper. Stanley wants to go to California to see a friend who has recently moved so his parents fold him up and mail him to California. This is the beginning of many adventures.
In the e-mail project Stanley was e-mailed to Taos. The students take Stanley around the Pueblo and take a picture of the sights as well as write about them so Stanley can "show and tell" about his visit to the Pueblo. Later the project was made into a virtual field trip so that students from around the world could see and read about Taos Pueblo.
Pictures by the Class of 2004
Words by the Class of 2005