Create a Dial-up Networking Connection
Windows 95/98

Double-click the "My Computer" icon

Double-click "Dial-up Networking"

Double-click "Make New Connection"
---
Name the new connection "La Plaza"
Your modem should be reflected in the "Select a device" box, if not choose your modem.
Click "Next"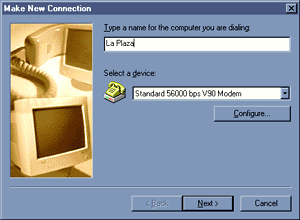 ---
Enter La Plaza's phone number: 737-5519
(Do NOT enter area code)
Click "Next"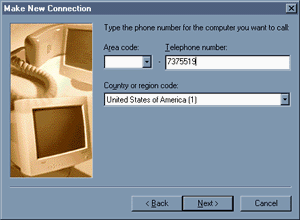 ---
You have made a new connection to La Plaza
Click Finish
This will take you back to the Dial Up Networking Box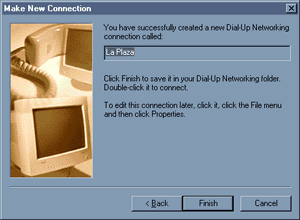 ---
Checking your Connection Properties
Right-click on the "La Plaza" icon
Click "Properties"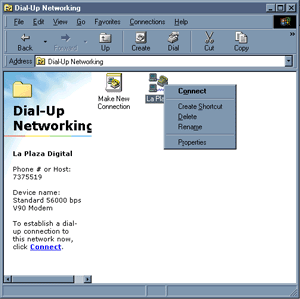 A properties box will appear.
Click the "Server Types" tab
The "Enable software compression" and "TCP/IP" checkboxes should be checked
ALL OTHERS should NOT be checked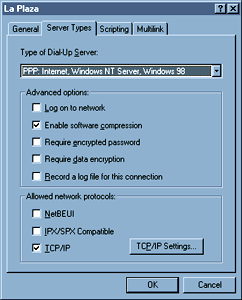 ---
Setting Up Automatic Redialing
While in the dial-up networking window, go up to "Connections" on the Menu Bar
Select settings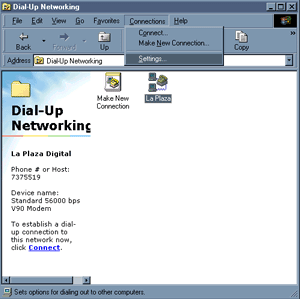 Check the box "Redial"
Number of tries to redial before giving up: put in 100 times
Number of minutes and number of seconds between tries: put in 0 for both
Click "OK" at the bottom of the page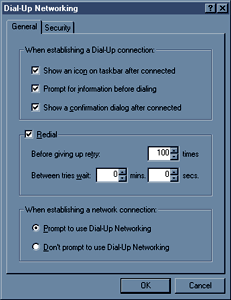 ---

Connecting to La Plaza

There are two ways to connect to La Plaza, the easiest is to create a "Shortcut to your La Plaza connection" on your desktop.

In the dial-up networking window right-click on your "La Plaza Digital" icon
Select "Create shortcut"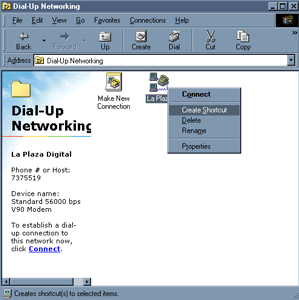 A box appears that says: "Windows cannot create a shortcut here.
Do you want to place it on the desktop instead?"
Click "Yes"
A La Plaza shortcut icon appear on your desktop

You are now ready to dial up to La Plaza and the Internet
Make sure your modem is plugged in and connected to a phone line

Double-click the "Shortcut to La Plaza" icon on your Desktop
A Connection Box appears
Enter your La Plaza User Id
Enter your La Plaza Password (Make sure to check "save pasword")
Click "Connect"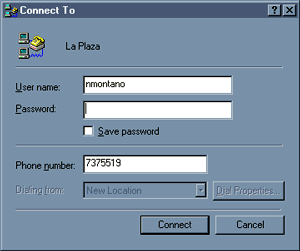 Once the connection process is complete, start Internet Explorer or Netscape and start surfing!
---
You can also access your dial-up connection this way
Double-click the "My Computer" icon
Double-click "Dial-up Networking"
Double-click the "La Plaza" icon
Enter your La Plaza User Id
Enter your La Plaza Password (Make sure to check "save pasword")
Click "Connect"
Back to Technical Support Page