Taos La Plaza Physical Network Map

Questa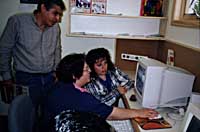 La Plaza Users at the San Cristobal Resource Center

Peņasco

La Plaza Telecommunity
Central network site for connectivity to the Internet via a T1 line to Albuquerque. La Plaza provides physical space, equipment, and technical and administrative personnel. La Plaza provides procedures, training is provided by La Plaza and through partnerships with other community organizations.

La Plaza Registration Desk

2200 Registered users
13 Computers in Telecommunity Learning Center for free public use
48 Class hours per month
Diverse classes per month
950 Avg TLC users per month
168 Local dial-in Modems
Taos Public Library
Connected to La Plaza via a wireless network and provides free public access. The Library provides the physical space, computers, and personnel to maintain equipment. Technical assistance is provided by La Plaza as needed. Procedures were provided by La Plaza.
4 Computers
5 Minute orientation training provided, as needed, by library staff.
User population 50% adult, 50% children
Average 200 Users/Weekly using 50 hours online time


Taos Public Library
Public Access Computers
Questa Cisneros Youth and Family Center
main public access point for Questa. Five Computers for public access use. La Plaza and the Village of Questa Municipal Offices have collaborated for public access use. La Plaza provides a part-time community Outreach Trainer and the village manages the center. La Plaza provides free internet access to both the center and village with a wireless system (www.laplaza.org/announce/AOLaward). The Youth and Family Center provides the physical space, and equipment. La plaza also provides maintenance of the equipment and procedures for education and training.
5 Computers
1 Part-time Community Outreach Trainer
2 Classes taught per month - Community Outreach Trainer
Houses La Plaza server and 8 dial in modems for community use.
100 Registered users
Peņasco High School Central network site for the Peņasco community and main public access point. Houses equipment or connection to La Plaza via 56Kbps point to point phone line. The High School has been connected to the Internet via La Plaza since May 1996. The lab was opened to the public during the summer of 1996 for public access and Internet training classes. It is currently available for public access during the summer and the school year. La Plaza provides the community Outreach Trainer and the physical space and equipment is provided by the school. La Plaza provides technical assistance with maintaining the connection, maintenance of the equipment is performed by the school. Procedures and training are provided by both the school and La Plaza via the Community Outreach Coordinators.
20 Computers.
5 Local dial-in lines for community use.
90 Number of registered users.