---
Volume 2, Number 1 - September 26, 1997
---
The New Electives
by Kirby
In the middle school, which is 6th, 7th, and 8th grades, we have a program called electives. They are P.E., Art, Youth Court, and Journalism. P.E. is taught by Marie Martinez, Art is taught by Claireen Espinoza, Youth Court is taught by Vikki Hudson, and Journalism is taught by Frank Samora.
Electives start at 1:00 and finish at 1:45. Peter, a 7th grader, says that electives are fun. Shannon, also a 7th grader, says that electives teach her how to work with a team. I asked Carley what other electives she would like to have and she said Cooking.
I think all of the kids enjoy having electives to take a break from school.
The Eagle Lady
by Jordan
The Eagle lady, formally known as Doris Mager, came to Taos Day School on Friday September 5, 1997. The first thing that I am going to tell you about this remarkable lady is that she has worked with 18 birds in her life as an eagle lady.
She showed us Eagles, Owls, and birds of prey.

Doris Mager has been working with eagles and birds of prey for 35 years. The names of the birds are ET, Little Eagle, Throuda and one that was with her 8 years and she had a good relationship with is RJ.
The way she got noticed by the government is she stayed in an abandoned eagles nest for seven days and six nights.
Taos Pueblo Head Start
by Brandon
I have been informed that there is an over population in the Taos Pueblo Head Start. They are only supposed to serve fifty four children and I understood that this is by federal law. They also said that they only have fifty four kids so they had to make a waiting list for the kids that had registered late. This has only happened to the three year old's, not the four year old's. So hopefully they will be able to fit in my little cousin Mykel who is on the waiting list for the three year old's.
The Dead Man
by Bennett
A dead body was found by the Taos Picuris Health Center on September 3, 1997. The dead person was named Kenneth. The last name of the man I don't know. The rumor is that he shot himself because he got fired from the Taos Pueblo Casino.
The Red Ribbon Relay Run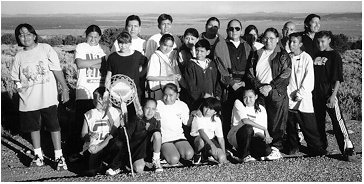 by Lavette
For this years Red Ribbon Relay Run, the cross country kids that ran were Lavette, Joey, Mark, Marc, Cruz, Bennett, Eliza, Lynnette, Naarah, Charisse, Antonio, Shannon and Jordan. They all did very good. Lavette and Marc both ran 2 miles, then Joey and Eliza both ran 2 miles, too. Then Antonio and Mikey ran 2 miles up Santa Fe hill and the two boys finished the day for all of us.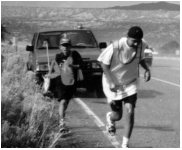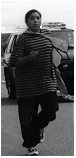 After that day we started the next day and a boy named Sage ran the first mile and after everybody else ran. When Tom ran the hill that stopped at Bernalillo we were done. So we went to the motel and the next day we all met at the park and we waited for about an hour. Then when the runners from the other pueblos all came we ran 3 miles into the State Fair and they introduced everyone. Then after that we all went our own directions into the section that had all the rides and they all had lots of fun.
See more Red Ribbon Run pictures in the Photo Gallery.
Fall Sports
by Asia
The year has started and that means sports are here again. The fall sports are VOLLEYBALL, SOCCER, and CROSS COUNTRY. As you know the first day of school we all chose the sports we wanted to be in for the year. You can still be in a sport if you want and did not sign up for it. Just talk to Frank, the athletic director.
I asked the students of Taos Day school what they thought about the sport that they were in for the fall. Charisse, a seventh grader, tells me she thinks Cross Country is a good sport. It helps you to stay in shape and to keep up your grades in order for you to participate in the games or meets. She doesn't like running in the HOT sun.
Dwight, a sixth grader, thinks soccer is fun and EASY!! Its a good way to keep you in shape.
Diane, an eighth grader, thinks soccer is cool! You have fun and it keeps you in shape. She would like to see a new field to play on and have grass covering it.
Naarah, a seventh grader, likes the Volleyball uniforms and thinks she will like going on games.
Some of the first teams games have started. Volleyball had their first game Sept.16, 1997 against St. Francis of Santa Fe. They WON the first game they played and lost the other three. On Wednesday the team went to Santa Fe Indian School. The 7th grade team won 15-3 and 15-2, but the 8th grade lost a close one.
Soccer had their first games on Saturday, September 13th. They won all five games.
Cross Country had their first meet on September 18th at Santo Domingo.
NEWS FLASH!!!
ANDY A DADDY!
Yesterday Andy and Ligia became proud parents of a brand new baby boy. Named Ian, the baby was born at 10:55 a.m. and weighed 6 pounds, 15 ounces.
Congratulations!