The Facilities, Activities, and People of TCEDC...
The Business Incubator, 232 Paseo del Pueblo Sur. (next to Smith's grocery)

TCEDC's Business Incubator started out with the renovating of an abandoned grocery store in 1987. Since then, it has been the home to over 100 start-up businesses. In 1998 alone, we had 18 business tenants, including furniture makers, tinworkers, upholsters, potters, artists, non-profits, and a local transportation provider. The incubator provides rental space on a sliding scale, with rent increasing over time.

Access to low-rent manufacturing space and the business support services of TCEDC have given these locally-owned businesses the chance to succeed. Success stories include award-winning furniture designs and graduates that have gone on to their own prime retail spaces in Taos.





The Taos Business Park, 1021 Salazar Rd.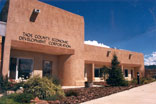 One of the most visible accomplishments of TCEDC is the completion of the 24,000 sq. ft. Business Park in 1996. The story behind the success is one of persistence and commitment. Securing the $2.3 million dollars to construct the facility on behalf of the community took TCEDC two and a half years and innumerable meetings with potential and actual funders for the endeavor.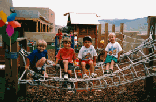 The joint venture and public private partnership nature of the funding of the project through RDA, EDA, and CDBG blazed a new path and set an example for other non-profits. Throughout the process TCEDC never lost sight of the ultimate goal to provide a facility and venue for local businesses. The Business Park has also given the community a focus for activity and pride.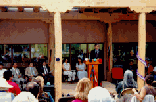 The facilities provide space for ten local businesses, 80% that are minority-owned and operated. In just two years of operation, the Business Park has generated over 85 jobs.