Taos Community Garden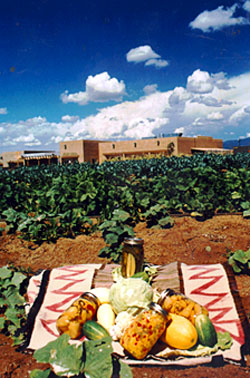 For the second year, TCEDC sponsored a community garden project to demonstrate the potential of farm to market enterprises and as a welfare to work pilot project. The project also expanded its scope as a community-supported agriculture model of consumer involvement and distribution. This allowed for up-front funding from the consumers through sales of shares in the garden. Over fifty shares were sold and the harvest was plentiful for each of the shareholders. Shareholders, volunteers, local ancianos (elders), and welfare to work participants all joined in the tasks of cultivating and harvesting the garden produce. The remainder of each week's harvest, after the shareholder distribution, was sold at the local farmer's market, to the Food Center processors, and to local restaurants. This gave both income and valuable experience in marketing and distribution of fresh produce for all the community members involved in the garden. With the success of the community garden for the past two years, future plans include construction of a greenhouse for year-round income and continued education with the community on income-generating, sustainable farming models for the Taos area.
Taos Food Center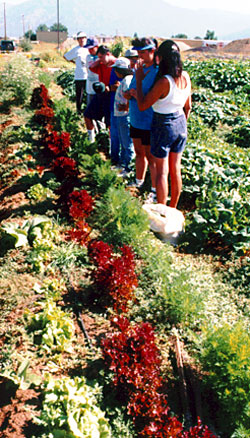 The Business Park that was completed in 1996 also included an incubator function, that of the Taos Food Center. This 5,000 Sq. ft. commercial kitchen and distribution center facility is at the heart of TCEDC's current and future goals. From the beginning of TCEDC's work in New Mexico the importance of food to the local history, culture, and people's tie to the land and water itself has been clear. The cuisine of Northern New Mexico traditionally is healthy and tasty. By providing inspected commercial facilities, equipment, and a wide-range of technical assistance and training, the Food Center is truly a nurturing environment for start-up or expanding small food processing business. Food processing is also a flexible, natural income generating activity that allows for many levels of economic development for individuals, families, and the community. Over 30 small food businesses have utilized the facility for activities such as tamale production, refrigerated fresh salsas, garden produce packaging, canning wild chokecherry jelly, catering, baked goods for local restaurants, retail salad dressings, and scones for major institutional clients.



1999 Community Garden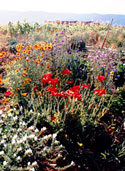 Get Your Hands Dirty and Get Involved in the 1999 Taos Community Garden!
We love to have volunteers join us in the fun of planting, weeding and harvesting. Garden workshops are offered throughout the season to give you new skills to feed your family and supplement your income in traditional ways!
We also have "Garden Shares" available again this year. Purchase or work for a share of fresh, pesticide-free and chemical-free produce from the Community Garden. You'll be supporting a worthwhile community cause and enjoying healthy produce!
Please contact Amalio or Tori for the 1999 Community Garden Brochure with more information on the planned activities and shares available this season.
For more information on sighning for a Garden Share for the 1999 Season see our Garden Brochure